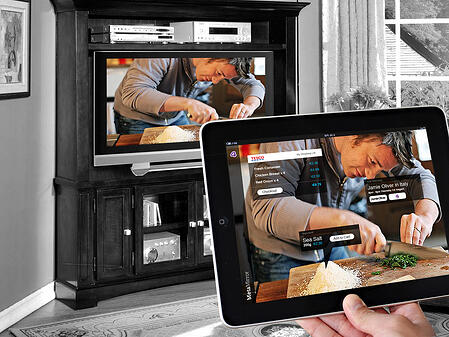 You're sitting on the couch watching TV with your tablet, smartphone in hand browsing Amazon. You're watching the NBA/NHL playoffs and an amazing play happens that you have to immediately find on YouTube and share to your social network of choice. Welcome to the life and the reality of Second Screen.
In the highly competitive TV industry, an upfront is a meeting hosted at the beginning of an important advertising sales season by network executives, attended by the media and major advertisers. These special "sneak peaks" create buzz and demand so marketers can purchase commerical slots "upfront", or months before the actual show seasons begins.

The buzziest word at the 2013 Upfonts will undoubtedly be Second Screen and it's estimated that over $9.2B of advertising will be committed to TV.

What is it?

Second screen, sometimes also referred to as "companion device" (or "companion apps" when referring to software applications), is a term that refers to an additional electronic device (e.g. tablet, smartphone) that allows a content consumer to interact with the content they are consuming, such as TV shows, movies, music, or video games. Extra data is displayed on a portable device synchronized with the content being viewed on television.[1][2][3][4] (From Wikipedia)
Who's Doing It?

Take a quick browse through Mashable's coverage on the space and you'll quickly see that there are 100's of apps vying for market dominance. These apps could yield a goldmine of subscriber data that can be fed to advertisers who could then turn around and use the information to target advertising.
(For a larger view of this infographic, click the image)
Why Should You Care?

Humans love to multitask and the instant gratification of Social Media interactions are key drivers of the second screen movement. Advertisers (willing to commit the aforementioned 9.2 B) will do whatever they need to in order to make that spend meaningful including building the apps themselves. For example, Chevy built their own app for Super Bowl. Coca-Cola built their own second screen advertising experience with the Polar Bears. Verizon was a major sponsor of The X-Factor app by Fox.

Advertisers need to do this because the reality is that Smart TV's are becoming dumb monitors. People want their television to work like a smart device and want the interaction to be effortless. According to market researcher NPD Group, more than 40% of U.S. households with Internet-enabled TVs haven't even bothered to hook them up to the Web.

You should care because this all directly impacts the way you will be interacting with your content. In 2013, its almost impossible to find a television program or commercial that does not have some sort of #hashtag in the corner of the picture.
Take a look at this infographic about TV becoming more social. Then, let us know what you think about this new trend. Are you part of the Second Screen Revolution?
(For a larger view of this infographic, click the image)